T & M Tilt-Up, Inc. was founded in 1985 as the first Georgia contractor specializing in tilt-up construction. Even though tilt-up construction techniques had been around since the 1940s, this fast and durable building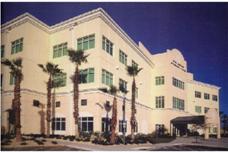 process was only beginning to become popular in the Southeast. T & M's formation provided the construction industry a Southern based tilt-up contractor alternative to support general contractors and projects in the Southeast. While still focused on projects in the region, T & M has taken projects outside the region when asked by General Contractors who have become accustomed to the consistent safety, quality and speed offered by T & M, Tilt-Up. T & M Tilt-Up has constructed buildings in Alabama, Florida, Georgia, Iowa, Kentucky, Louisiana, Mississippi, North Carolina, Ohio, Pennsylvania, South Carolina, Tennessee, Virginia, and West Virginia.
Two brothers, Tommy DeLoach and W. Michael DeLoach, Sr. were raised in the construction business and could see the value of building with tilt-up. Taking their experience in general contracting, project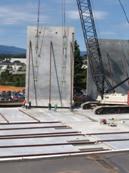 management, design and heavy equipment, they set out to build a business on quality work and customer satisfaction. In mid-2008 Tommy and Michael made the strategic decision to spin off the Crane Division into a separate company that is headed by Tommy DeLoach, TMC Cranes LLC ( www.tmccranesllc.com ). While T&M will use TMC Cranes for erection, this new corporate structure allows the company to expand its scope to new types of concrete projects and concrete work. Customers want additional high quality concrete and tilt-up support services beyond simple construction and erection labor - T&M is now positioned to offer those full lines of concrete management services. The result of that beginning is the T & M Tilt-Up of today which boasts a full complement of services to meet any need associated with a concrete project. Take a look at the T & M Capabilities and Services pages listed on this web site for additional details about what T & M has to offer. As the needs of general contractors, architects and project managers expands, T & M's commitment to customer satisfaction keeps T & M expanding services and capabilities in order to continue meeting client needs and expectations. If it can be drawn, T & M Tilt-Up can make it a reality, that's why we say we can take your project from "concept to completion".
Customers receive a lot more than tilt-up contracting when they sign up with T & M. When dealing with T & M Tilt-Up, clients readily notice they are dealing with a "top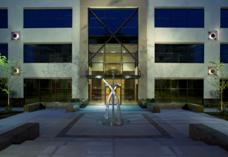 notch" company. Professionalism, attention to detail, quality workmanship, value-added interaction, first class equipment and customer service are hallmarks of what can be expected when working with the T & M team. Having the best tools, like fully computerized office and quality equipment, creates an environment for success. However, it is T & M's people with their experience and commitment to excellence that makes the T & M difference. T & M Tilt-Up, Inc. makes and sustains this level of commitment like no other tilt-up company. Safety, quality and speed on e-v-e-r-y project.
T&M Tilt-Up is also a Certified Premium Installer of Fast Form International products.