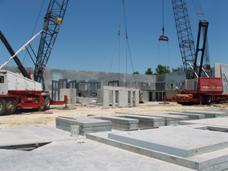 T & M Tilt-Up
Concrete from Concept to Completion.
When you deal with T & M Tilt-Up, you are dealing with Professionals that have the experience and the tools to get the job done right . . . the first time. As you note the capabilities listed below, you will begin to realize how T & M has built their reputation of safety, quality and speed. You will also know why you can have confidence when you do business with the best in the tilt-up business, your Pros at T & M Tilt-Up.
Estimating Department
The Estimating process is fully computerized, beginning with the drawing take-offs through the project total. This approach has several advantages for General Contractors and Project Managers.
| | |
| --- | --- |
| | Automatic error-free dimension and component calculation. |
| | Produces firm, to the penny, bid prices and detailed budget numbers. |
| | Quality control check points to avoid over/under estimates to control bid costs. |
| | Electronic recordkeeping to improve customer service and response related to bids. |
Because the T & M Estimating Department follows a standardized estimating process, bid and pricing response receive fast turn-a-round. All final bids are subjected to a stringent Quality Control process which includes a Accuracy Review prior to prices and budgets being released. And that is how Pros do it!
Panel Design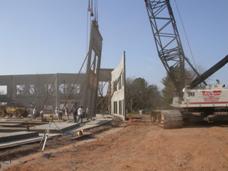 "Panelizing" a project is part science and part art. The science of size and weight is something that is expected of tilt-up designers, T & M delivers on the "science". The "art" of panel design rests in partnership and experience. Partnership is the ability to work in collaboration with architect and owners to ensure the look and feel of the project is maintained, while controlling costs as panels are created and joined. Experience is understanding what it means to take what looks good on paper and what it takes on-site to construct and erect buildings. Understanding these aspects of panel design allows T & M to "avoid trouble before it reaches the field." Designing projects from 10,000 square feet to over 1,000,000 square feet has provided a broad experience base which spans from smaller to the largest projects. This is one of the features General Contractors enjoy about how T & M does business. We are able to take virtually any project from it's initial "concept to completion".
Project Management
Once T & M wins a bid, then it is time to earn the business. Step one is assigning a Project Manager which will be oversee many aspects of the project, but chiefly to fill two roles:
| | |
| --- | --- |
| | Ensure overall customer satisfaction and |
| | Be the primary point of contact with T & M Operations. |
As the primary point of contact, the Project Manger will also handle internal coordination of drawings, T & M crews, project tracking, materials and closing out the project at completion. In many cases the Project Manager will have had involvement in the estimating process, which decreases their initial project up-to-speed time. T & M's approach to Project Manager staffing centers around developing project management skills in those who know construction rather than trying to train a project manager how construction works. Experience has shown that this approach provides the best service and value add to customers.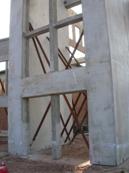 Structural Engineering of Walls or the Entire Facility
For panel and structural requirements, T & M works with several licensed structural engineers who are considered leaders in their engineering disciplines. T & M can oversee the structural design and engineering for panels, walls or an entire facility through it's relationship with these key engineering firms.

Experienced Superintendents & Construction Crews
Jobs to layout, panels to form, concrete to place! Once drawings hit the job site, the key to an on-time/on-budget project is leaving nothing to chance along the way. T & M Superintendents have the experience to hands-on manage the day-to-day job site operation and keep workmanship high and schedules moving on track. Another value added advantage of experienced superintendents is their additional awareness of project activities surrounding the tilt-up installation. On many occasions the awareness and knowledge of T & M's superintendent has saved the General Contractor money, time and frustration by helping the project avoid trouble.
Top Rate Erection Crews
Tilting up multi-ton reinforced concrete panels is a feat to behold.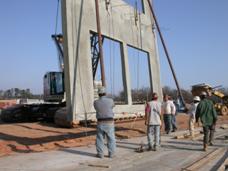 T & M crews make it look easy. That's what happens when you see professionals at work. Our crews have set panels as heavy as 192,000 pounds and as large as 72 feet 6 inches tall and 50 feet wide. In fact, they set more than 20 panels a day with a crew personal best of 56 panels in a single day. "It's not bragging if it's fact", or so said John Wayne. T & M Tilt-Up can field top rate erection crews for all their rigs. While quality equipment and well trained, experienced crews takes an investment, the payoff comes in fast, quality work that is performed safely. It is no time to skimp with a 100,000 ton panel overhead and deadline commitments you intend to keep. There is, however, a substitute for a top rate erection crew: budget overruns and missed schedule dates. Accept NO SUBSTITUTES - insist on T & M Tilt-Up, Inc.

Leadership Team
T & M Tilt-Up, Inc. was founded in 1985 as the first Tilt-Up company in the state of Georgia. Founder W. Michael DeLoach, Sr. was raised in the construction business and is still active in the T&M today. A graduate of Clemson University, Clemson, South Carolina, Michael is a licensed general contractor in Alabama, Florida, Louisiana, Mississippi, Tennessee, Virginia and West Virginia. He also holds CE certificates in design, operations, management, computer technology and automated drafting and design. Michael has extensive experience in the construction industry and understand the entire construction process, for residential, commercial, heavy industrial, state and federal prisons, schools and hospitals.
Ricky Sorrow, VP/GM, is responsible for bid management, drafting, engineering, project management , outside construction and day-to-day operations. Ricky has been in the drafting, civil engineering and concrete construction field since 1988 and has literally done every task involved in concrete construction from surveying to erection.
All of that experience comes into play as they plan and work your project. They are able to take a project from design and site preparation to owner occupancy. Their vision and combined focus on customer satisfaction and construction experience have played a pivotal role in building the T & M reputation for safety, quality and speed.